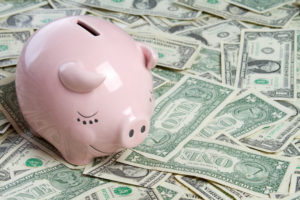 In these tough economic times, many of us are trying to stretch our dollars and keep our debt as low as possible. The following tips from the National Foundation for Credit Counseling (NFCC), offer easy ways to save:
Empty the change in your pocket into a jar each night. Pocket change can add up to between $30 and $50 a month.
Cut $5 a day out of your incidental spending. Mindless spending and impulse shopping take a bigger chunk out of your spending than you might care to admit.
Resolve to carve $10 a month from each of five discretionary spending categories. For example:

Food: plan meals in advance and never grocery shop on the run.
Eating out: order water to drink when dining at a restaurant.
Utilities: lower the thermostat at home.
Shopping: stay out of malls, and shop only when an item is needed.
Medical: sign up for one of the discount plans on prescriptions currently being offered by many national drug chains.

Ÿ Kick your bad habits. Buying a pack of cigarettes and a lottery ticket each day can add up quickly.
Ÿ Eliminate bank fees. Bank with an institution that has ATMs near where you live and work, eliminating any fees assessed by using a machine outside of your network. Don't pay for your checking account when many banks offer free checking with few strings attached. Never overdraw your account.
Ÿ Get an insurance check-up. You don't want to be over-insured or underinsured, but if you can handle raising your deductible, it will save you money each month.
Don't have too much of a good thing. Examine your cell phone package. Are the minutes right for your calling patterns? Look at your cable plan. Are you paying for channels you never watch? Switching to a plan that is right for you yields big savings.
Stop charging and pay with cash. Studies show that people who pay for their purchases with cash typically save about 20 percent. Therefore, if you put $1,000 onto a charge card each month, you stand to save big bucks.
For professional help finding hidden money in your budget, call a National Foundation for Credit Counseling member agency. To locate the counselor closest to you, dial (800) 388-2227, or go online to www.DebtAdvice.org. To find a Spanish-speaking counselor, call (800) 682-9832.